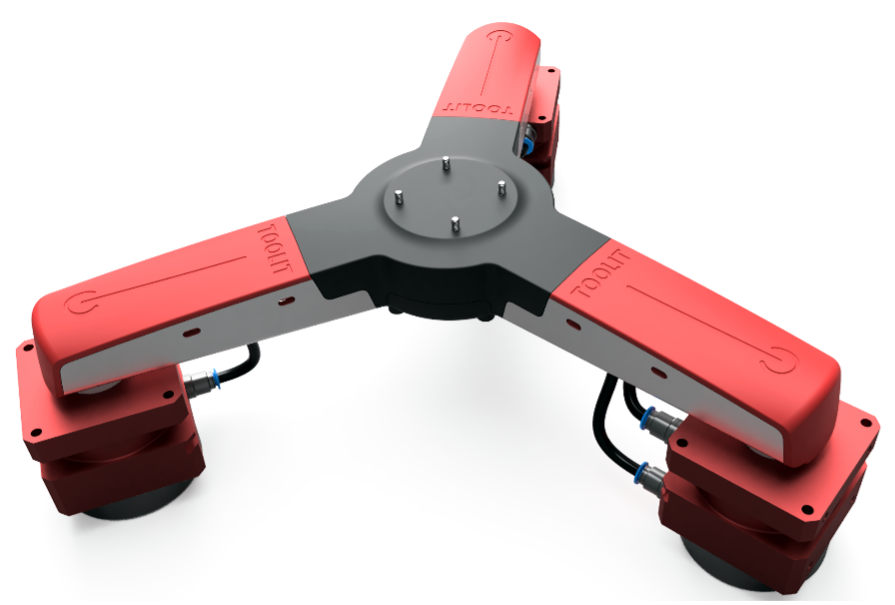 Weight: we use a light composite aluminium frame to form a stiff and strong backbone for the tooling. We have three standard frame sizes with each multiple positions for powerful bi-stable lifting magnets.
| | |
| --- | --- |
| Diameter: | Weight: |
| 3M 250 mm | 3,4 kg |
| 3M 350 mm | 3,5 kg |
| 3M 500 mm | 3,6 kg |
The magnet tooling has three independent bi-stable pneumatic magnets that are controlled by a single bi-stable 5/2 control valve. A magnet engaged to hold a load will keep its full power in case of a power loss.
The holding power of the magnets depends on material characteristics, thickness structure and the surface. Each magnet, set directly onto a clean magnetic (mild steel or equivalent) surface of minimum 2mmm thickness will hold 530N load. An open structure, coating or dirt or magnetic properties will influence the load holding. In case of doubt please consult Wadcon Automation or send us a sample of the payload for testing.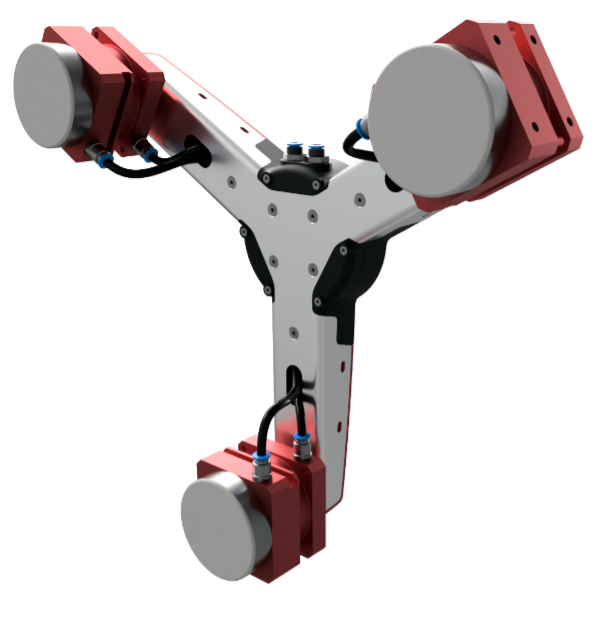 Custom frame sizes: The magnets are positioned in a triangle on the frame. In the case that a custom frame size of layout is required any custom frame size up to 600 mm diameter is possible at a fixed surcharge.
Especially for round products like shafts or cylinders we have a special tooling that can hold round objects up to 120 mm and flat objects as well with a weight up to 30 kg . The tooling has a weight of 2 kg . This set up would be a good choice for a machine tending application. In situations where the operator is working in the same area a double magnet setup (type 2 RM) would be advised to increase redundancy:
Weight with one magnet type 1RM: 2 kg
Weight with two magnets type 2RM: 4,5 kg
Included:
Pneumatic control pack 4 points box tooling:
1 x Bi-stable air valve 5/2 3mm on the tooling.
2 m air feed 6mm.