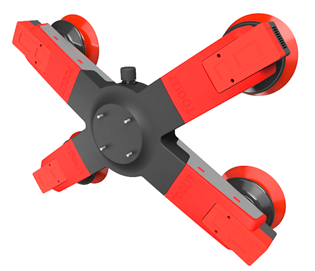 Cardboard boxes in practice are selected with the minimum characteristics required for packaging. As a result these will often deform considerably when being handled and also frequently show air leakage through the carboard making holding a vacuum uncertain. Our box tooling is designed to work with these design challenges. The vacuum cups are set at each corner of the box, where it has the greatest strength. Furthermore each cup has its own powerful vacuum generator that can counter most - but not all- leakage.
| | |
| --- | --- |
| Standard size: | Weight: |
| B 200 x 250 | 2,0 kg |
| B 350 x 250 | 2.0 kg |
| B 400 x 300 | 2,1 kg |
| B 400 x 400 | 2,2 kg |
Included:
Pneumatic control pack 4 points box tooling:
2 x 3/2 NC control valve 6mm for the vacuum generators. Due to the leakage of vacuum through cardboard a blow-off function is not required..
2m air feed 6mm.
Air reserve: 1 litre back up supply with met check valve. This can ensure that the vacuum is maintained for several seconds after the air supply fails. This allows the cobot to set down the payload before the vacuum fails in the case of a failing air supply.
Custom frame sizes: The suction cups can be positioned in several positions on the frame. In the case that a custom frame size is required any custom frame size up to 600 mm diameter is possible at a fixed surcharge.