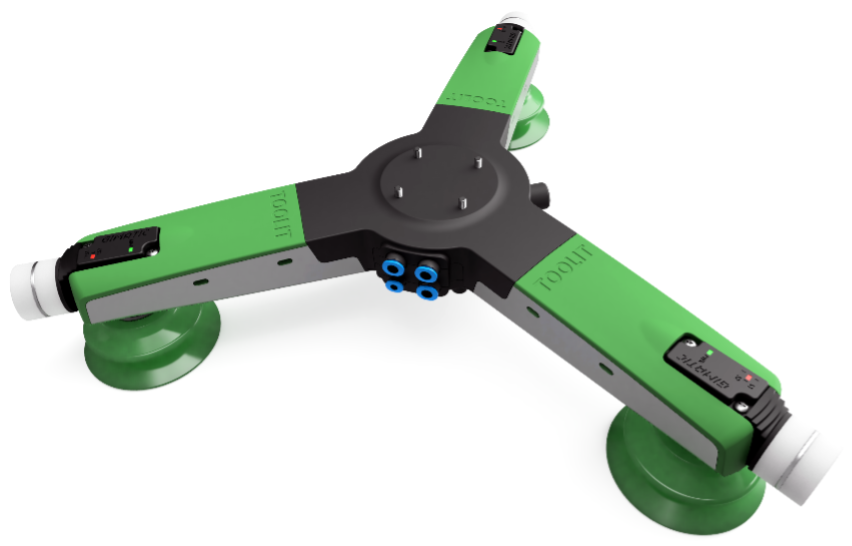 Weight: we use a light composite aluminium frame to form a stiff and strong backbone for the tooling. We have three standard frame sizes with each multiple positions for suction grips
| | |
| --- | --- |
| Diameter (mm) | Weight (kg) |
| 1: 3S 250 | 1,8 |
| 2: 3S 350 | 1,9 |
| 3: 3S 500 | 2,0 |
Suction cups : 80 mm rubber. Each cup has its own vacuum generator and its own 5/3 control valve allowing a fast release with a blow-off function. All three suction systems are fully independent and a single cup is normally capable of holding the load (depending on the payload surface) The working load is calculated for vertical lifting of the load with a safety factor >4 on a smooth, flat an impermeable surface. Each suction cup is rated at 30 kg at 90 degrees to the payload surface with an optimal payload surface.
Included: Controls pack:
Pneumatic controls 3 point tooling:
Air pressure signal P=/> 6Bar.
6mm 3/2 main air feed control (always on during use).
3 x 5/3 control valve 3mm voor vacuum venturi.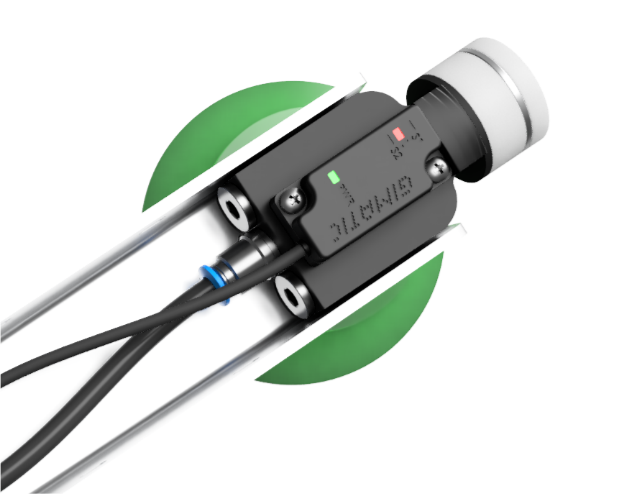 Options:
Air reserve: 1 litre back up supply with met check valve. This can ensure that the vacuum is maintained for several seconds after the air supply fails. This allows the cobot to set down the payload before the vacuum fails in the case of a failing air supply.
Three individual vacuum switches: As soon as one of the suction cups fails to attain a correct vacuum this will be detected and communicated to the cobot/robot.
Custom frame sizes: The suction cups can be positioned in several positions on the frame. In case a custom frame size is required any custom frame size up to 600 mm diameter is possible at a fixed surcharge.